Top Recipes from 50 Episodes of Taste of Fiftyeight
Carina's 3 Top Recipes from 50 Episodes of Taste of Fiftyeight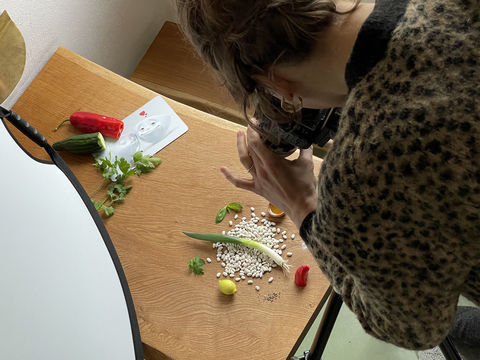 It's official! Our popular recipe series Taste of Fiftyeight with expert nutritionist Canari.de is celebrating its 50thepisode this past week. We're here to celebrate in two ways: First, with an exclusive behind the scenes interview with Carina Zimmermann at her kitchen studio, which you can read here.

And also with this story, in which we share Carina's 3 Top Recipes from 50 Episodes of Taste of Fiftyeight right here on our website.
We hope that you enjoy these culinary highlights and also that you drop by on our Facebook every Thursday, when a new episode of Taste of Fiftyeight drops. Always with fresh ingredients and seasonal ideas! Here is the ultimate Top 3 list.
Red Beet Soup with Apple and Coconut

Vegan, gluten free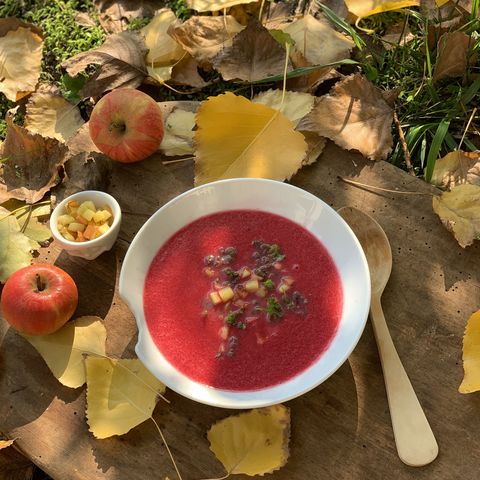 Red beets have ruled for centuries: First reports of their medicinal properties date back 2500 years to Hippocrates and they were considered an ailment for blood diseases in the Middle Ages.

One hundred years ago, doctors prescribed them for fatigue. And rightly so, because beets are packed with vitamins and secondary plant nutrients that play an important role in cancer prevention.
INGREDIENTS
Serves 6
SOUP
3 tablespoons olive oil
1 mid-sized onion
1 kg fresh red beets
750 ml vegetable broth
200 ml apple juice
400 ml (1 can) coconut milk
1-2 cm fresh peeled ginger root
Sea salt
Fresh ground pepper
TOPPING
1 tablespoon olive oil
2-3 apples
1 bunch parsley
Salt
Peel and dice the onion. Peel beets and remove leaves and roots. Now also dice the peeled beets (careful, the red pigment will color your fingers. Wear gloves or use lemon juice to rinse).
In a tall pot, heat 3 teaspoons olive oil and sauté the diced onion and red beets for 5-10 minutes. Then deglaze with coco milk, apple juice and vegetable broth and simmer until the red beet has softened.
While the soup is cooking, prepare the topping: Wash parsley, shake dry and then chop. Dice the apple thinly and sauté mildly in a small saucepan. Then add some salt and mix with the parsley.
Once the red beet in the soup can easily be pierced with the tip of a knife, it's time: Add freshly grated ginger root and then blend thoroughly (immersion blender works amazing) until no more chunks are left in the soup. Finally, season with salt and pepper to taste and serve your vibrantly colored soup with the topping. Yum!
Green Asparagus with Walnut Salsa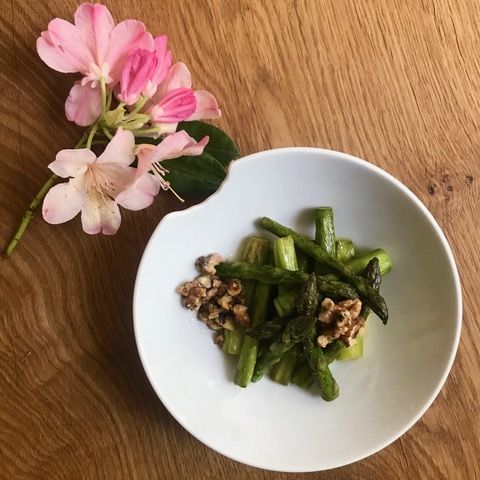 This recipe feeds two people but can also be split into four portions as a light appetizer. We recommend using walnut oil and chili flakes for the perfect flavor, so make sure to add them to your shopping list, you won't regret it!
Variety is the spice of life, and since we're somewhat limited in terms of social and cultural variety at the moment, we're mixing things up on our plate! Asparagus has been grown in Europe since the 17th century and even in ancient Greece, the taste and therapeutic effects of the vegetable were held in high regard.
That's because asparagus helps to flush out the kidneys and strengthens them to do their intense job. Beyond the kidneys, asparagus also increases lung function. Dry cough or tense skin, a regular diet of asparagus fixes a lot of ailments :)
INGREDIENTS
750 g green asparagus
1 tablespoon olive oil
Pinch of sea salt
Pinch of freshly ground pepper
Pinch of cane sugar
DRESSING
5 tablespoons chopped walnuts
3 tablespoons olive oil
2 tablespoons walnut oil
Juice of ½ lemon
Pinch of chili flakes
Clean the asparagus and peel the lower 1/3rd part. Then cut each asparagu stalks in three pieces.
Heat olive oil in a large pan on medium heat and cook asparagus pieces for 10 to 15 minutes. Add salt, pepper and sugar to taste.
In the meantime, roast chopped walnuts in a small pan at medium temperature without oil. Watch carefully to avoid burning. Once the walnuts release their aroma, take off the heat. Stir walnuts with olive oil, walnut oil and lemon juice, then add sea salt, freshly ground pepper and chili flakes to taste.
Toss with the cooked asparagus and enjoy…
Braised Zucchini in Tomato Sauce
​​​​​​​Feeds 4 as an appetizer or 2 as a main dish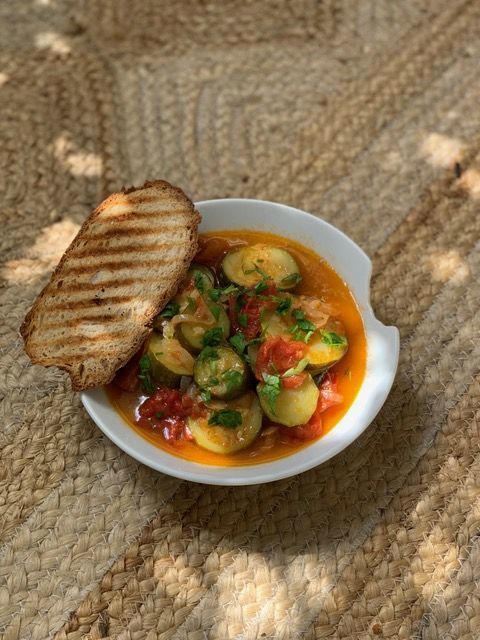 Zucchinis offer boundless possibilities. Perfect for summer, zucchinis have a slightly cooling effect on our bodies while strengthening our stomach and spleen.

Today we're presenting zucchinis in a super easy recipe together with their BF, the tomato and a handful of other friends. Together they blend into a flavorful and joyful dish, granted they are given enough time to really hang together. You'll see – it's all about spending some time to bring out those natural flavors.
INGREDIENTS
8 small or 4 medium-sized zucchinis
1 large white onion
2 fully ripened tomatos
1 small bushel of parsley
8 tablespoons extra virgin olive oil
Pinch of sea salt
Freshly ground black pepper
Pinch of nutmeg
PREPARATION
Peel onion and cut into small rings. Wash zucchini and cut into 1cm slices. Heat olive oil and cook onion rings and zucchini at medium heat, making sure to take some time and stir regularly. In the meantime, dice tomato, and wash parsley. Dry parsley and roughly chop, stems included.
Once the zucchinis have gained some color after about 15-20 minutes, add salt and pepper and a pinch of nutmeg. Add diced tomato and parsley, stir well and cover with water. Bring to a boil and let simmer for 45 minutes with the lid on until softened.
Before serving, check flavors and adjust seasoning as needed. Sprinkle with reserved parsley and serve with delicious bread for mopping up that gorgeous sauce.


Also make sure to follow @canari.de on Instagram for lots and lots of recipe ideas and healthy, nutritious eats!​​​​​​​