CAULIFLOWER CREAM WITH EDAMAME, PEANUTS AND WAKAME SEAWEED SALAD
Would you like something a little exotic? Italy meets Japan. The result is a real treat for the palate. Our fourth appetiser is another culinary surprise from the recipe collection of our four chefs from the TEA CUP COOKBOOK. And after that, all you need is a great dessert. Do we have any suggestions? Just take a peek at the book later.
.
INGREDIENTS
1 cauliflower • 500 ml whole milk • 100 g butter • sea salt • white pepper • 250 g frozen edamame • 1 tsp sesame seeds • 3 tsp soy sauce • 1 tbsp mirin (sweet rice wine) • 6 sprigs of fresh coriander • 100 g roasted peanuts • 200 g wakame seaweed salad • 1 tbsp sesame oil • 1 cup red shiso cress
PREPARATION
Remove the leaves from the cauliflower and chop roughly; set aside a few florets for garnish. Season the milk with butter, sea salt and white pepper, heat slowly and cook the cauliflower pieces for 15-20 minutes until soft. Pour the contents through a sieve and collect the stock. Puree the pieces of cauliflower with a little stock in a tall container with a hand blender until creamy - the cream should not be too runny! Season to taste and set aside. Heat a pot of water and blanch the edamame beans in it for 5-8 minutes, then rinse with cold water and peel. Lightly marinate the edamame with soy sauce and mirin. Wash the coriander, shake it dry, pick off the leaves and add it to the wakame seaweed salad with the sesame seeds. Cut the reserved cauliflower florets into thin slices and fry them vigorously in a pan with sesame oil. Spread the cauliflower cream on deep plates and make a well in each one, place the wakame seaweed salad in there and sprinkle the peanuts on top. Scatter edamame beans all around and garnish with a few leaves of red shiso cress.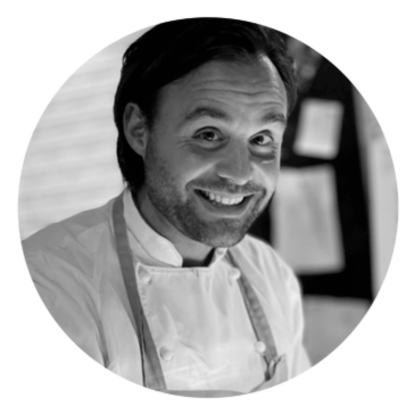 MARTINO STIRN
As a child of a family of restaurateurs with an Italian mother, he literally had the culinary gene from the cradle. After formative positions in star restaurants, Martino is now realising his ideas of earnest and artisanal cuisine in his restaurant MARTINO KITCHEN in Wiesbaden, which thrives with the aromas and freshness of seasonal and high-quality products. 
www.martino-restaurant.de