STORY: Stories from Dreamland
We've already written the FIFTYEIGHT story, but here a few things that we haven't told you yet. Anecdotes about creative fails, lessons learned and where we are after 15 years of FIFTYEIGHT PRODUCTS. It has a lot to do with dreams and wishes. And things that came true, because we often did and were able to do what we dreamt of.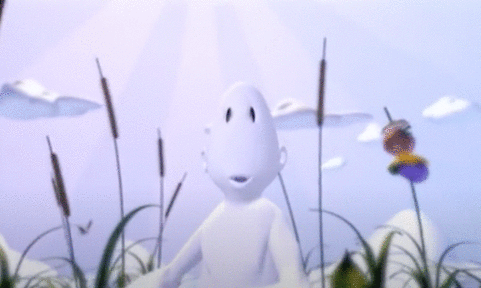 "Use a doodle" FIFTYEIGHT ANIMATION, 1998
The world needed our characters. Not only as computer animations, but as real, analogue products.

We'd been dreaming of this for a long time, since the foundation of FIFTYEIGHT ANIMATION 25 years ago. How great would it be if our characters could be put down and used?

And the plan, what exactly would it be? We'll take care of that later.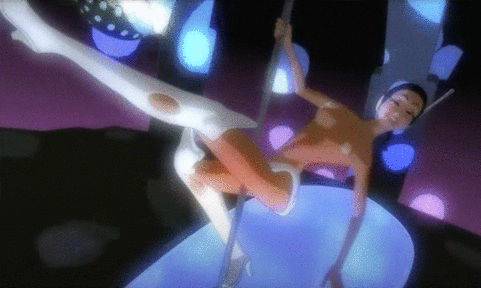 "Domo Origato" FIFTYEIGHT ANIMATION, 1998

For now, cross boundaries, experiment, try things out and have fun in the process. We created entertaining topics:

Do cartoons need to protect themselves against AIDS? ( Use a Doodle on the Noodle ), a woman falls in love with a robot in " Domo Origato "...

In short: No limits! No compromises! Our drive: A longing for creative freedom and a desire to bring joy to the world.

FROM 3D TO THE REAL PRODUCT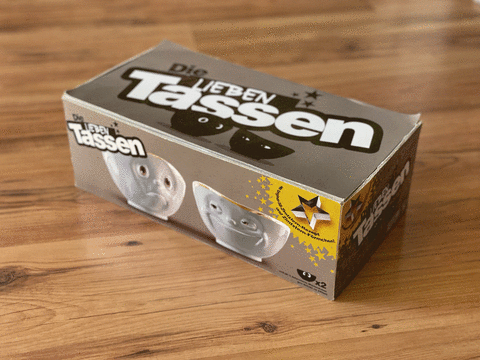 Erste Verpackungen und Ideen, 2006 und 2007
Back then, product recommendations came from all sides and we had wild ideas about what we could do. Animated wallpaper, lampshades, stools..., anything is possible if you let your imagination run free. But on the face of it, it was already there, the inner compass that still guides us today, and therefore we reached an early decision on the laid table and a matching product family. So it began with the 500ml bowls GRINNING and SULKING.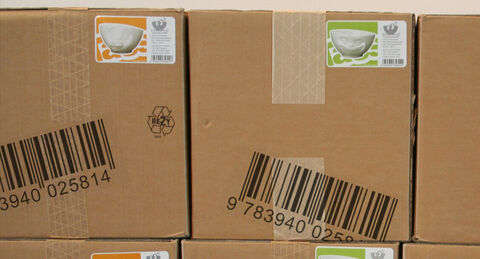 "Umverpackungen?!? -Ja Klar!"
It wasn't easy. It was a bumpy start. No sooner had we solved one problem, then the next one came along. Our principle was "learning by doing" as well as "trial and error" methods. But wait a minute!? FIFTYEIGHT ANIMATION has been around for almost 10 years. True, but a service tech company has their own processes and tools that cannot be transferred to a manufacturing company. However, we are now on a different path. In the world of "European Article Numbers" – EAN, nothing works without a barcode, as we soon found out.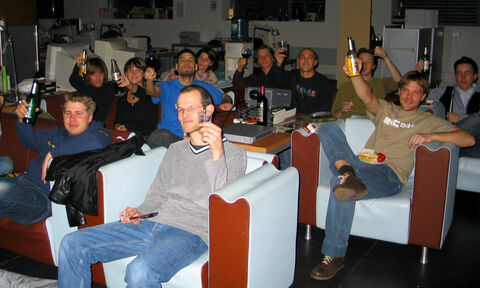 One thing that was extremely helpful: We already had a great team, many of them from the founding years of FIFTYEIGHT ANIMATION. It didn't take a lot of persuasion. Everyone was very enthusiastic. That was also important, because we had to keep business going. With the products project on top. So more work for everyone and investments from current business activity. No credit, no banks.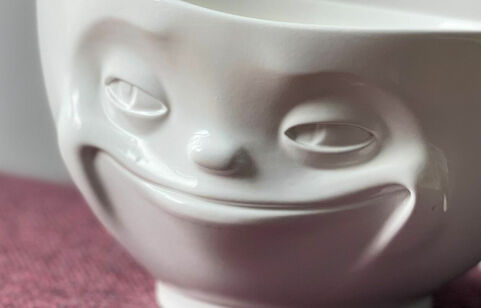 "So scharfe Details gibt's nur 3D gedruckt", Stereolithografie, 2006
The design for GRINNING and SULKING was developed by computer. Then with our stereolithographic models we had to find a manufacturer. It surely wouldn't be difficult in a country with such a long tradition in porcelain production – there had to be something! That's what we thought, but there was nothing doing, apart from the sobering realisation that nobody was waiting for us. The manufacturing costs on the table were simply too high for us to work with. So the search went on.
This was followed by independent product developers.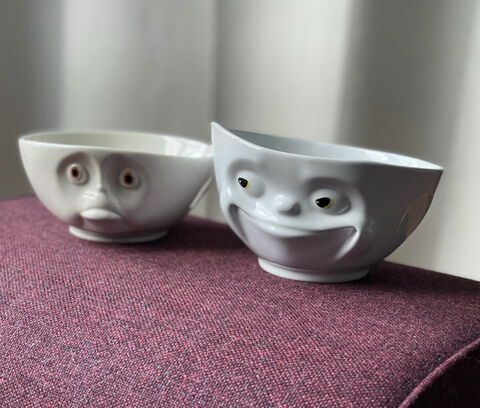 "Sollten wir damit wirklich in den Markt?"

Fails, 2006
Unfortunately, they had their own ideas about what our bowls should look like. Not that our design needed to be improved, it was just a question of simplifying the expressive facial features in our design, because we could then produce it more cheaply. We also looked at China – but the samples were completely unacceptable. Having said that, we wanted to manufacture in Europe, if not in Germany.

Teure Tassen, handvergoldet um 2007
Two years passed before we had the first samples on the table that looked exactly like they did in 3D. The big day arrived in 2007: the launch became reality. The first serial production began with the two classics GRINNING and SULKING at a porcelain factory in the Czech Republic. The Czech Republic has a long tradition of porcelain production, the quality was right and the price was OK, even though the minimum order requirement of 20,000 units made us sweat a little.

FANTASY DESIGN vs. REALITY

At this point, it goes without saying that we learnt a lot about porcelain in these two years. This material is actually a lot harder to work with than we had thought. Even our current manufacturer BHS, in Selb, Bavaria – who we've been working with for many years now – found our designs and ideas challenging.

Timm Osterhold reacts to the first teapot model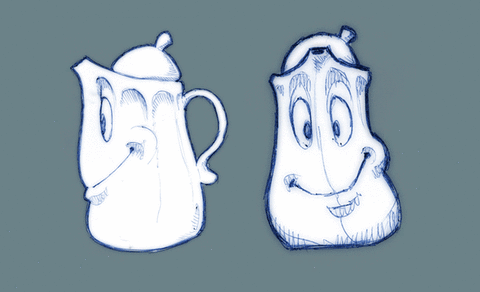 "Kanne" 3min Scribble und 3D Model
Sometimes it's not only a matter of the production details, but also usefulness and well-intentioned advice. For example, our teapot GOOD MOOD. In an age of coffee/tea/hot chocolate machines, we were strongly advised not to do this. Or the mugs. When we introduced the first character to our retail partners, the initial reaction was negative. Because it was no longer a bowl, but a very different design. The teapot which was predicted to be a flop then became one of our most popular characters. And the mugs? The consumers who use them every day have fun with them. And fortunately that has remained the case to this day.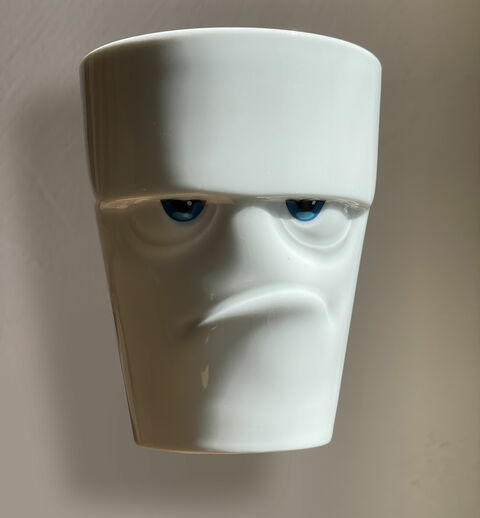 "Movie Edition", in die Glasur eingebranntes Dekor
Areas like production, logistics and distribution were new ground for us. Design on the other hand is one of our core competencies, we have years of experience. Product design, packaging, displays, communication design – things for which other manufacturing companies need an agency or have to set up a department, we can do in-house. And the style? We've made our name in the toon, comic and fantasy world. These influences are a vital part of the FIFTYEIGHT DNA and shape our product world. Our Movie Edition with the coloured eyes is a great example. A special edition for selected limited edition products that we started releasing in 2017. Why not straight away? The production is much more complex. Or HAPPY HERMANN and the HANDFUL OF LIGHT from our new CEELINGS labels which have just been awarded the German Design Award 2022 – both could have come directly from an animation film.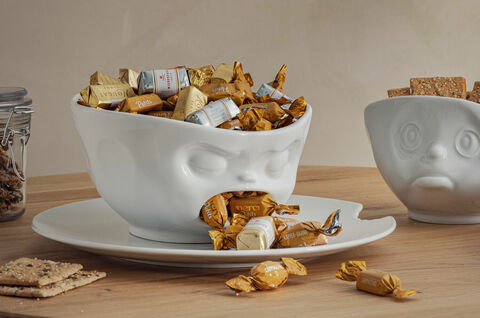 "Zum Kotzen" Schale mit Loch, 2020
For us, design has always meant becoming very emotional. In one direction or the other. We like to polarize. Extremes are not taboo, as you see with products like BARFING and GRUMPY, or our Emoticups. We are probably on the same wavelength as our customers. We've always received exciting suggestions and requests for new products. We love feedback, especially all the posts with food pics. Very creative and imaginative. A vibrant source of inspiration.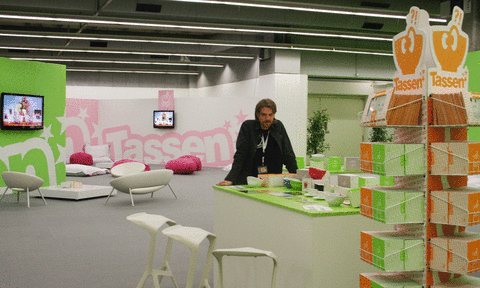 "Messegeschäft" Ambiente 2008 & Las Vegas 2020
Marketing also belongs to the Challenges chapter. Not the topic itself, because animation studios also have to do marketing. But marketing your own retail products is a completely different activity. With 20,000 bowls in stock, you really have to buckle down. The topics of distribution, logistics, communication and trade fairs were immediately on the table. Back then, this meant: Doing it and seeing how it goes (or doesn't go).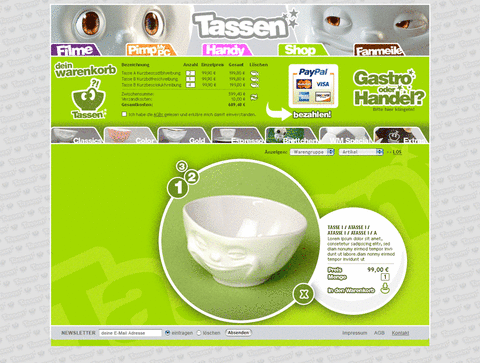 "Tassen.tv", unser erster Webshop, 2008
Brand management was also part of this. Perhaps you still remember. At the start, our website was called tassen.tv, only later becoming 58products.com. Or the branding of the first two bowls – there were 2 different logos and icons. And social media? It feels like it's been there forever. In 2007, some were already out of the starting blocks and on the way to becoming more important. But you didn't have to stay on the ball constantly. Fortunately so, because there were plenty of other things to be working on.

FROM FRANKFURT TO THE REST OF THE WORLD

Trade fairs! Very important! It was a modest start. We presented ourselves with a small display, a few products and our funny little film, which had a relatively large audience at the time. But there seemed to be strong interest in us from Frankfurt Trade Fair. In any case, we soon received an offer for quite a large space.

We're going to fester alone here at this stand!

Max Zimmermann on the giant stand at Frankfurt Trade Fair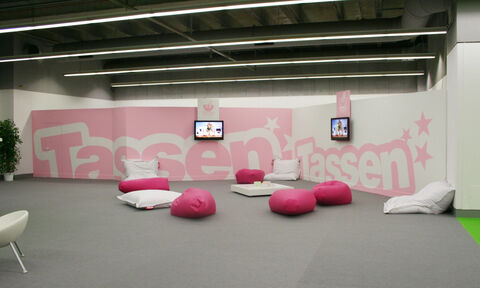 "Leerer Hallen-Fail" Ambiente Frankfurt, 2008
A really large stand. Cool! Let's do it. Part of the deal was that we use the space professionally, meaning furnishings, entertainment, customer care, advertising material, etc. Even if – in addition to planning and investment – the sheer size of the stand required a tough night's work for setup, there was something that would hit us much harder. The lousy location! It was so bad that we had a great stand, but no visitors to this hall. We learned our lesson again. Or the topic of trade fair follow-up. Every retail pro knows that. It's not as much fun as standing around chatting at the trade fair, but it is important. Then we got it!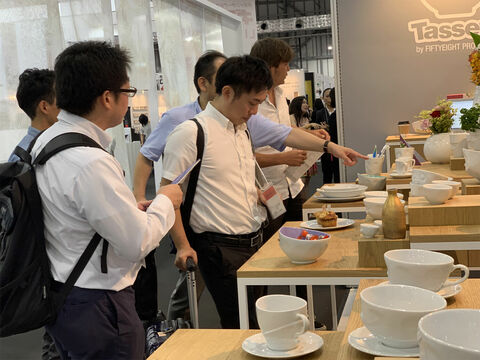 "International Gift Show Messe" Tokio, 2019
Today, we travel internationally with our trade fair stands and our products are represented in 60 countries. Our presence in Frankfurt am Main at the world's leading consumer goods trade fair "Ambiente" was very helpful. Store owners come from far and wide in search of new products for their shops. Over the years, we were able to establish international contacts with people who recognised our potential. We even met some of our long-term sales partners this way.

"Kaufhaus Lotte" Seoul, 2019
We see it as a fitting stroke of fate that the comic nation of France would become our first international market and now our biggest market after Germany – merci to our friends and sales partners Philippe Cauchefert and Henric Kihlström. But we are just as happy to work with our partners in Austria, Switzerland, Spain, Portugal, Italy, Japan and South Korea. Business relationships have long become friendships there too. It's an irony of history that we even have Chinese retail partners who are convinced by our "Made in Germany" quality and are putting our products on the table in China.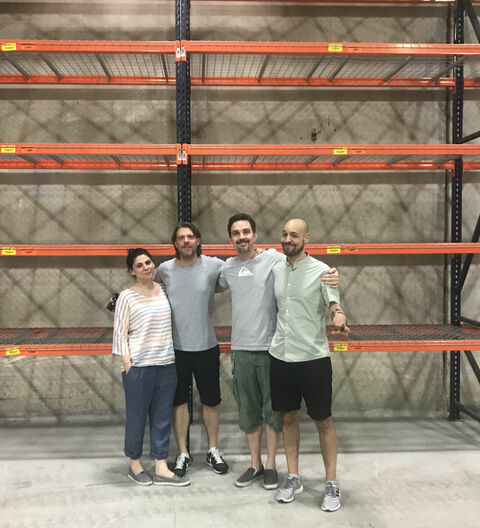 "Noch sind die Regale leer" Miami, 2018
USA has been on our map for a few years now, too. For a long time, we'd been looking for a sales partner there who was well connected and could open doors for us. No such luck. So we took it into our own hands. The condensed version: Founding a company in Miami, cramming huge containers with goods and onto the ship. Warehousing and logistics on the ground, plus an American web shop. Bam!

Marc Eckart on the organisational debacle in the UK.

We're still there with our friends on the island. Although we'd been to big trade fairs in London and Birmingham years ago and our characters are a great fit there. It initially failed to meet the expectations of the Brits, or depending on the perspective, ours. We wanted to supply products from our central warehouse in Germany and be paid in euros. We had actually solved the problem. We found a warehouse in the UK where our English customers could order and pay in pounds. Brexit meant we had to put the plans on hold for the time being. But we won't give up easily. We're still working on it and will keep you posted.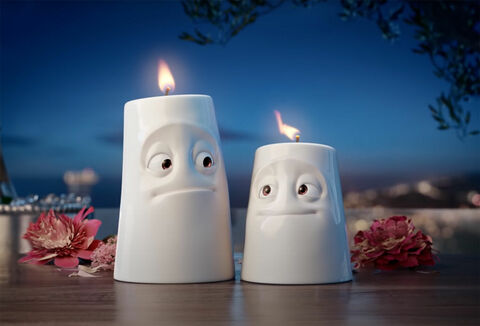 "Kerzenschmusies" Youtube, 2021
People come together and have fun. Look to the future with confidence, even if the sky is darkening again. Nowhere is our attitude more condensed than in our films. Our first video clip became popular in 2004, years before the first real products. We had a community in Germany right from the start. Apart from in Austria and Switzerland, the German language clips – with their Hessian dialect and very special humour – were largely unknown abroad. Anyone who knows our films, and incidentally that's a few million people, knows what we mean. Almost every product launch is accompanied by an animation film, such as "The Oath of Love" for the candle cuddlers. This, by the way, is a good example of our creative processes only being over when they're really over. In the recording studio, we didn't like the dialect we had planned to use, so we tried something else in the voice-over booth which made us all laugh. The final version was actually ready at the last minute.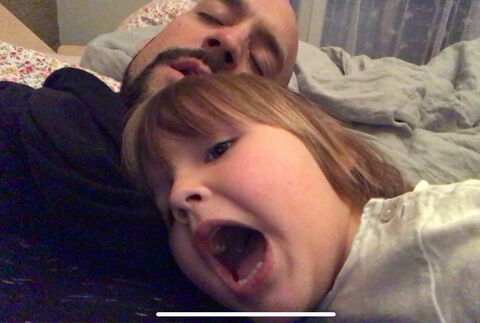 "Oh Kannenbaum" Original eingesungen, 2017
Inspiration can be found everywhere. So it happened that our kids sometimes messed things up with their babbling while we were doing a recording. This resulted in real original sounds like in "Talented Offspring" or "Infinite Holiday Cheers". Pearls from real life.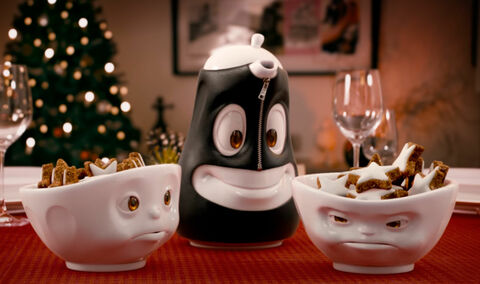 "Peacock's feather: Teapot in Leather" Youtube, 2014

Even though some sayings can be translated into English, the perception of what is funny and not funny greatly varies from culture to culture. That's why we also work with local comedians to strike the right tone. We spoke to a comedian in England about how we could "translate" our stories and our humour. The Brits (see film here)have a notoriously dark humour and we were very curious. What happened next was so crazy that even we didn't dare to do it.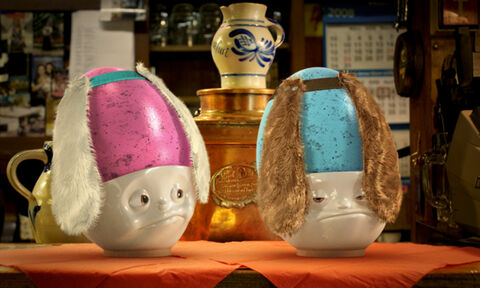 "Zu weit rausgerudert" Youtube, 2010
Creatively, we also like to go left field. Sometimes a little too far: In the run-up to a European Championships, we'd come up with a commercial that combined football with the Easter Bunny (… you can find the film here). It's likely that not everyone was able to follow it, but we still find it very funny today.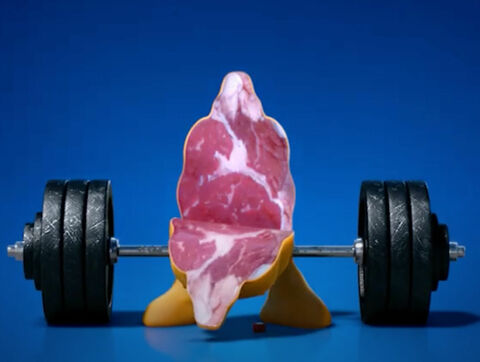 Cannics in Playstation Vita, 2018
CANNICS also have a wicked sense of humour. You have to love it. The best way to see where this might lead is by taking a look at the products from our various labels and the special editions. And we have plenty of ideas for new products in the pipeline, something for you to get excited about!

And here we are in 2022.
The founding partners are still the managing partners. Families have been created, friendships have grown. Our core team still includes people who were there in the beginning. We've accomplished a lot together and probably done things the right way. Even if one thing or the other took longer than planned. Some things need a bit of time and perhaps the journey is its own reward. A journey that we want to last for many more years with you, our community all around the world.

​​​​​​​We're looking forward to it.