LAUNCH STORY: Charming & Cheerful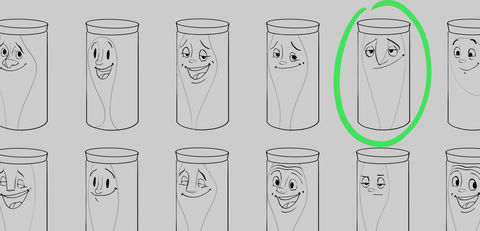 …but it sure is worth it.

This fact applies to many situations in life. And everyone who's met some adversity on the road to success knows the great feeling when things finally end up working out.

With that said, here's the story about our two latest members of the TASSEN family, our new Storage Jars CHARMING and CHEERFUL.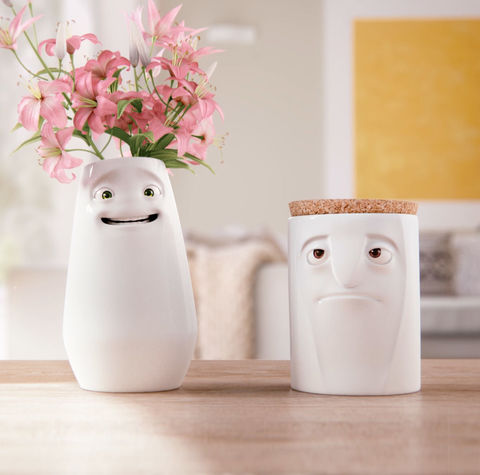 At first sight, you'll notice that they're real characters, and entirely different from the rest of the line.

But then again, that's how it always is in large, colorful families. Every single member is a unique, loveable individual with a mind and a style of its own. Plus, these two were in high demand.

We added storage jars as a category because our community has been asking for them for a long time.
Inspired by Picasso's cubist noses, I wanted to create an entirely different type of character this time. Rather cool and with a straightforward form language.
Max Zimmermann, Co-Founder and CEO at FIFTYEIGHT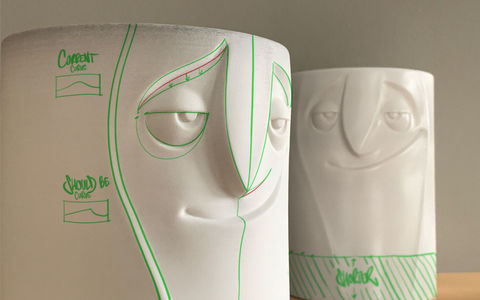 To provide an appropriate welcome to our latest addition, we've produced a new animated TASSEN movie (you've probably seen some of our other clips already).
In this latest feature, our CHARMING Storage Jar is trying his best to win over his new flame, our LAID BACK Flower Vase, for a dinner date. But it's not really going as planned, because as many of us can say from experience: It ain't always easy with these amorous pursuits!
So in a nutshell, that's the plot of our new TASSEN film, which we are offering only in German language, and in Bavarian dialect, specifically. That kind of Southern German swagger in the speech of our Storage Jars CHARMING and CHEERFUL wasn't easy to translate… actually, impossible, as it turns out, so we left the original as is.

Here's what else proved far from easy: The two Bavarian characters were initially supposed to launch early in 2020. But when we introduced the two novelties in February at Ambiente tradeshow 2020 to international audiences, little did we know what disruptions the coronavirus pandemic would cause. So with that said, the two have made it to market slightly later than expected and we had to keep a 'lid' on their imminent arrival for a bit…
It's always a totally special moment when one of our characters comes to life in a movie.
Timm Osterhold, Co-Founder and CEO at FIFTYEIGHT
But it's been worth the wait. Especially since the two jars introduce an important expansion of the TASSEN universe; namely an entirely new material in the collection. Because the jars needed a tight closure, we went and did our research. Ultimately, we weighed all options and settled on cork for the lids.

Cork from Portugal, to be exact. It's a highly sustainable, premium product with an eco-friendly manufacturing footprint. Soft, flexible, durable and easy to maintain. It's a material that feels and looks incredible in combination with white porcelain and complements a variety of home decoration styles.

The practical advantages of storage jars require no further explanation (they hold all types of stuff and look neat).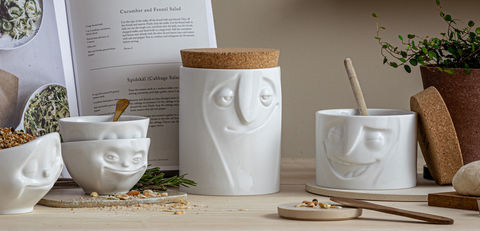 Plus, CHARMING (1700 ml) and CHEERFUL (900 ml) are happy to hang out all day in your kitchen as true gourmets and food lovers.

And they trust that you will only use them to store healthy and wholesome items. Which ain't always easy, but it's well worth trying.

On that note, thanks for welcoming our two new additions to the fam!