Made in Germany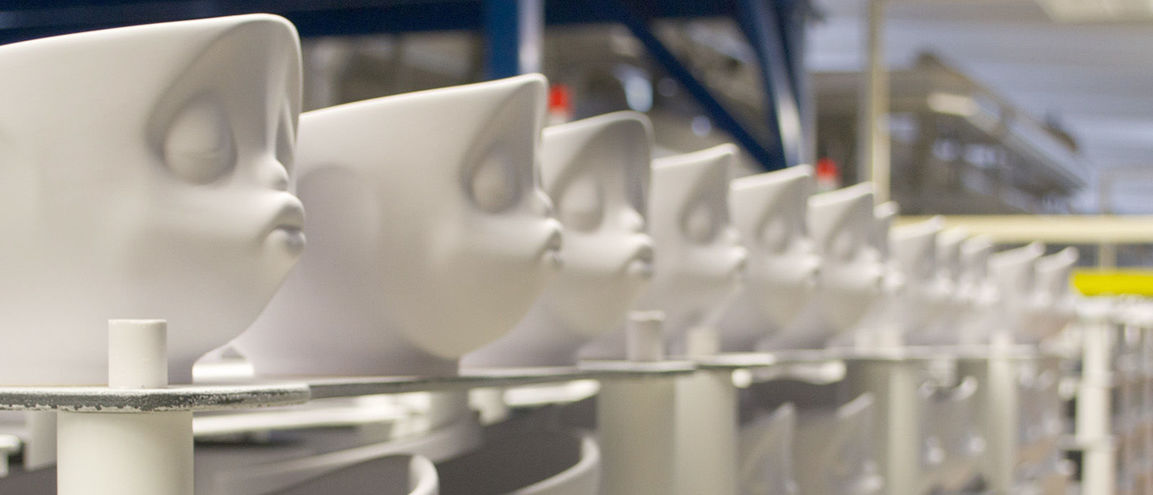 Humor? Check. Emotional facial expressions? No doubt. And high-quality porcelain, produced at one of Europe's leading porcelain factories with state-of-the-art technical know-how? Check, check, and check. The high-end porcelain manufacturing process spearheaded by FIFTYEIGHT PRODUCTS raises the bar in porcelain design. This story has the details…
Quirky Porcelain Products Made in Germany: FIFTYEIGHT PRODUCTS Raises the Bar in Porcelain Design and Manufacturing

Humor? Check. Emotional facial expressions? No doubt. And high-quality porcelain, produced at one of Europe's leading porcelain factories with state-of-the-art technical know-how? Check, check, and check. The high-end porcelain manufacturing process spearheaded by FIFTYEIGHT PRODUCTS raises the bar in porcelain design. This story has the details…
It all started with a passion for computer-animated characters, designed with a love for detail and brought to life via high-end 3D-animations software. In 1998, three ambitious company founders are looking to bring a piece of Silicon Valley to Germany's Rhine-Main Area. In 1998, Timm Osterhold, Marc Eckart and Max Zimmermann launch their business under the name Computeranimationsstudio FIFTYEIGHT 3D in Wiesbaden. Powered by a start-up loan to the tune of €153,000, the trio is able to purchase two high-end workstations capable of running market-leading animations software.
Hitting the ground running, FIFTYEIGHT 3D quickly makes a name for itself in the international 3D-animations scene. Commercial milestones include Procter and Gamble's time-honored brand mascot Mr. Clean next to advertisement work for MTV Europe, Sony Music, and Nintendo. As the company hits a steep growth trajectory, official recognition for FIFTYEIGHT 3D arrives in the form of honors such as first place at the annual Animago Awards as well as a Silver Cyber Lion at the International Advertising Festival in Cannes, France, for its blend of creative ideas and artistic execution.
But despite all the creativity, nobody in those early years of the new century would have thought of making real-life products under the FIFTYEIGHT name. Except the usual posters or T-shirts featuring 3D-animated characters. But then again, life always has a tendency to find a way…
In the year 2004, FIFTYEIGHT 3D created an animated video clip sent out as a holiday greetings email to clients, friends, and family. (In those days before the rise of social media, these type of clips were sent as attachments, although hard to imagine today.) The main stars of the video clip were two cheeky coffee cups with lively facial expressions, constantly squabbling and getting on each other's case. Not quite the holiday spirit, but nevertheless, the clip strikes a nerve and goes viral, as it is re-sent and forwarded thousands of times that Holiday season. And with a budding fan community demanding more videos of the zany coffee cups, FIFTYEIGHT 3D gladly obliges, and the little cups emerge as resident brand mascots. So as the next step, someone threw out an idea: "Hey, why not make real coffee cups, just like the ones in our videos!?" To which everyone replied: "Great idea, but what do we actually know about making things from porcelain?"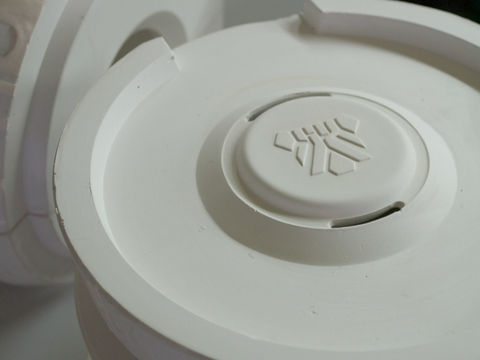 From virtuality to reality
As it turns out, the FIFTYEIGHT 3D team has to curb its enthusiasm quite a bit, as "making stuff from porcelain" is really much harder than it sounds. Time for a reality check. Although the designers at FIFTYEIGHT 3D have the key advantage of creating their characters as full-fledged three-dimensional computer models – with fully flexible facial expressions, at that – transferring this data into the real world is an arduous process. And working with porcelain is its own art form. "It actually wasn't that simple to transform our 3D-models into porcelain counterparts. At least not at the high level of quality and detail we also apply to our digital animations," said Timm Osterhold.
The three founders of FIFTYEIGHT 3D finally manage to find a small porcelain workshop in Southern Germany. But presented with the complex 3D-models for FIFTYEIGHT's characters, they respond: "Absolutely impossible!" Because any regular porcelain bowl or cup may have the occasional edges or ornaments. But when it comes to rendering the kind of facial details envisioned for the quirky characters in porcelain, the verdict is: Impossible! After some trial and error, together with some serious hard work, the first real life products end up seeing the light of day. "We were all the more happy to welcome the first successful prototypes of TASSEN bowls to the world in 2007," said Marc Eckart.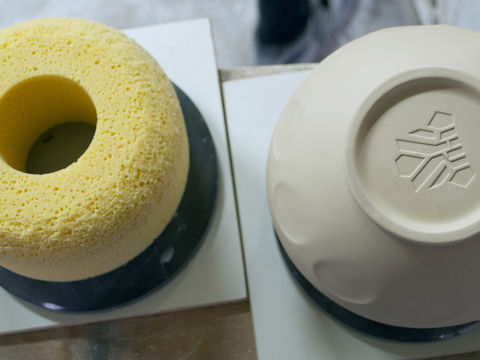 In 2007, the first run of TASSEN products is released. It's a small offering at first, mainly revolving around single-colored bowls at a capacity of 500ml with several different faces. The initial response among customers is encouraging, although the "grinning" porcelain bowls resonate with a niche audience rather than a mainstream clientele. Nevertheless, the team at FIFTYEIGHT has had its taste of making real things, and they're hungry for more. So they establish a new business platform: FIFTYEIGHT 3D splits up into FIFTYEIGHT ANIMATION for the core business of computer animations, while FIFTYEIGHT PRODUCTS puts a focus on innovative porcelain products.
Over the next few months, FIFTYEIGHT PRODUCTS gradually evolves into a subtle addition to FIFTYEIGHT's main business, and a blank canvas for designers to play with creative ideas. But whether or not the entire venture holds potential from a business perspective – all the way to becoming a "real company – still remains to be seen at that point. The biggest obstacles holding down the program from taking TASSEN to the next level: The company has yet to find large-scale serial production at affordable rates but in line with their high quality standards.
Joining the Big Leagues
It would take a professional to realize the full potential of the TASSEN series: At the major home and living goods tradeshow Tendence in Frankfurt in 2011, FIFTYEIGHT PRODUCTS has set up shop with a booth in an area dedicated to up and coming brands. The team is displaying its rather manageable TASSEN product line-up, at that time solely comprised of two coffee cups and a handful of bowls with different facial expressions. And as it happens, industry insider Ralph Engelmann is currently roaming the halls as a product scout in the services of a major porcelain manufacturer.
"I was literally walking down the aisle lost in my own thoughts, not really seeing anything that blew me away. That's when I saw something from the corner of my eye that inspired me to turn around and walk over," said Engelmann. That something turned out to be the quirky grinning TASSEN bowls, presented by Marc Eckart from FIFTYEIGHT PRODUCTS. Eckart and Engelmann strike up a conversation that would set the stage for things to come. As they part ways, both sides agree to search for options to work out a manufacturing partnership.
At the time, FIFTYEIGHT PRODUCTS has little idea of their counterpart's background: Engelmann is hunting for new brands and porcelain collections as a scout for BHS tabletop manufacturing company. With a focus on producing porcelain for the hospitality business, the quality-certified company with headquarters in the Bavarian town of Selb and two nearby manufacturing sites manufactures around 40 million pieces of porcelain per year. About 200 million people eat their meals every day from dishware produced by the company that employs over 1,000 people in manufacturing, logistics and porcelain design. And the big question is: Could the quirky little TASSEN bowls become the next big seller for BHS tabletop?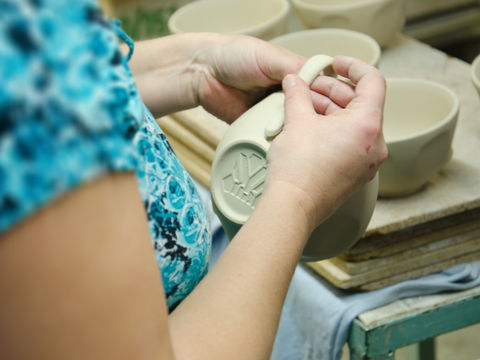 "You're trying to manufacture what?!"
When Ralph Engelmann returns to BHS headquarters with samples of FIFTYEIGHT's emotional bowls, not everyone shares his enthusiasm. "Our experts in porcelain development simply could not believe it at first, they were completely flabbergasted," said Engelmann. "This is never going to work", "We have never done anything like this before" were some of the initial responses. But Engelmann gives his seasoned porcelain technicians a pep talk and encourages them to give the challenging process of bringing TASSEN into serial production a try.
On that note, what makes the manufacturing process for grinning faces on TASSEN bowls and cups so demanding? "The TASSEN line of products requires a fundamental paradigm shift in the porcelain manufacturing industry," said Engelmann. "Initially, the paradigm in the porcelain business revolved around achieving the most consistent thickness of the porcelain, also known as body thickness or shard thickness, throughout a product. Consistent thickness ensures a constant drying of the porcelain after being poured into molds, as well as uniform results after firing the porcelain in the high-temperature oven. All these factors are also fundamental requirements for serial production at high quality levels."

The samples Engelmann obtained from FIFTYEIGHT at the tradeshow completely go against the grain of established rules: "FIFTYEIGHT's 500ml bowls were really the exact opposite of consistent body thickness," said Ralph Engelmann, "because even in the most impossible spots such as the back of the character's head there are indentions. For our internal development team, this presented enormous challenges we needed to overcome." Drawing on their extensive know-how, the technicians worked on making the impossible possible, and bringing the TASSEN into a serial production run. "Ultimately, we succeeded in producing a prototype that was ready to go into larger manufacturing run. And what's more, the resulting products not only ended up meeting the high standards defined by FIFTYEIGHT for quality and design of its products. They also met the desired increase in production output, assisted by the flexible logistics services provided by BHS, that FIFTYEIGHT PRODUCTS had defined in its growth strategy," said Engelmann.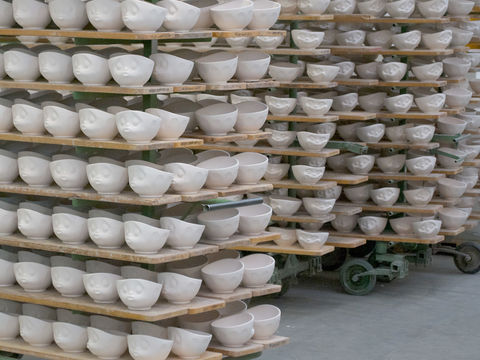 The High Art of Porcelain Manufacturing
As the fruits of their labor, BHS tabletop and FIFTYEIGHT PRODUCTS celebrate their first completed production run in 2012. The line is comparatively small at first, featuring four bowls, two coffee cups and two espresso cups. But over the years, the collection would grow to what now amounts to over 40 pieces of porcelain products, while BHS and FIFTYEIGHT continue to raise the bar in terms of product design and manufacturing technology. "At this point it needs to be said that we could never do it without the professionals and artisans on the manufacturing side of things. I have been deeply impressed on numerous occasions by their expertise and the way in which they go to lengths to retain our designs instead of replacing it with production techniques that would be easier to implement," said Max Zimmermann at FIFTYEIGHT.
This kind of time-honored porcelain design expertise, paired with top-of-the-line manufacturing processes – including 70-meters long ovens for firing the porcelain and high-tech burn control – provide BHS tabletop with a unique competitive edge. And in order to maintain it, the company has invested over €50 million in state-of-the-art manufacturing equipment over the past few years. Then again, despite all the technology and high-end gadgetry, porcelain manufacturing ultimately stills boils down to one single thing: skilled craftsmanship. Here's a quick primer on The High Art of Porcelain Manufacturing…
So what does it take to produce porcelain? Basically, porcelain comes from a raw mix consisting of 50 percent Kaolin, 25 percent quartz and 25 percent feldspar. This crystalline mixture is either used as a dry powder or a liquid paste as the basis for four different production methods:

Hollow casting. This process relies on turning the design into three-dimensional, hollow casts made from gypsum. Liquid porcelain, also called slip, is then poured into these casts, which serve as a "negative" for the three-dimensional products, including all bowls in the TASSEN series.



High-pressure casting. The hollow insides of a cast – in this case crafted from polymer rather than gypsum – are poured with porcelain slip at high pressures.



Rotating. Porcelain in a moldable clay form is processed in a rotation method, just picture a lump of clay spinning on a turntable similar to a record player. Shapes and patterns can be added during the spinning process, which is how the large TASSEN salad bowls receives its endearing features.



Pressing. Instead of using liquid porcelain slip, a dry granulate powder is processed with an isostatic pressing method. The granulate is inserted into a mould and pressed at pressures upward of 200 bars.
The ultimate result of these initial production steps is the so-called body crafted from dry porcelain, which is then headed into the oven for firing. The first round of firing, also called bisque-firing, hardens the raw porcelain at temperatures around 950º C, followed by applying the glaze. During the second round of firing, called glost firing, the glaze hardens as the porcelain becomes solid and dishwasher-safe at 1,420º C. These high temperatures melt together all the separate kaolin, quartz and feldspar grains into a tightly bonded material, safe to be used with foods. This final firing concludes the manufacturing of high-grade porcelain, and the products enter into the polishing and quality approval stages.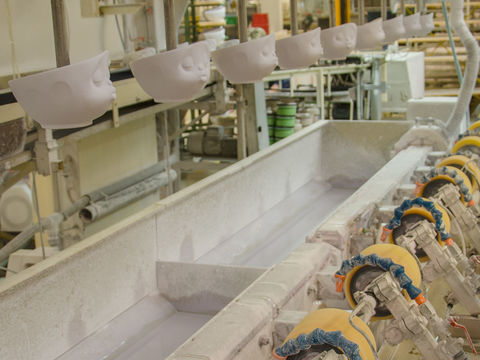 Craftsmanship Meets Innovative Design
"During the production for FIFTYEIGHT PRODUCTS, we apply the entire spectrum of different porcelain manufacturing methods," said Ralph Engelmann at BHS. "The main challenge when it comes to developing new designs from ideas into serialized production always lies with turning the ideal design delivered by FIFTYEIGHT into something that works from a production technology standpoint." It's actually a high art, and the technicians at BHS draw on decades of expertise to transform a creative ideas into prototypes – without entering into any compromises when it comes to retaining the emotional appeal of the products. "It's important for us that the serial production versions still keep their initial charm and character, all the while being scalable into quality manufacturing runs. Ultimately, we are not doing anyone a favor when a product with a great design ends up being thrown out eight out of ten times because of production flaws."
It never gets boring, and the manufacturing of new products always proves a constant learning experience for both sides. "The most exciting moment is always when FIFTYEIGHT submits their first draft of a new idea as a 3D-computer model," said Ralph Engelmann. "Then we discuss with our modelers, in how far we are able to deliver products that retain their hand-made character while being feasible for serial production."
In many cases, the team at BHS needs to jump into the fray and intervene in the production process. Sometimes, the products even need a little nip and tuck under the scalpel. "It's quite funny to hear our design colleagues submit their feedback on the latest models. Their language sounds a lot like plastic surgery, with talk of enhancing the eyelids, smoothing out the temples or straightening the forehead from wrinkles. It really runs the full gamut from porcelain design to facial surgery."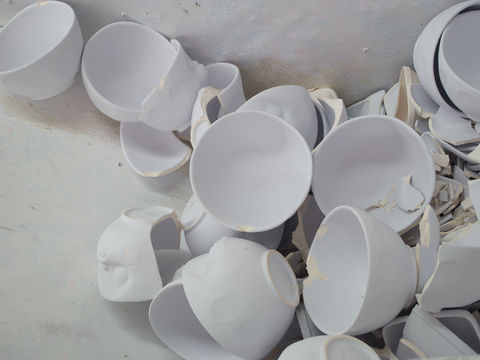 Quality Made in Germany
With a full commitment to delivering high-end quality products, the entire design and manufacturing process behind TASSEN porcelain is rather time-consuming – and by no means cheap. So to play devil's advocate for a second: Would it not be more price-efficient to source a less ambitious version, perhaps from Asia? "So far we have not seen a supplier who could deliver our desired quality. Period. And do so consistently and at the required production quantities," said Marc Eckart at FIFTYEIGHT PRODUCTS. "But aside from pricing, products 'Made in Germany' also reflect our clear commitment to supporting Germany as a hotbed of innovation and economic growth."
At the same time, Made in Germany is also a respected seal of quality earned by complying with rigid environmental standards. BHS tabletop is proud to point out its excellent carbon footprint and strict use of natural raw materials for porcelain (quartz, feldspar, and kaolin), which has earned the company certification for environmental compliance with the ISO 14001 standard and ISO 50001 standard for energy savings.
Ralph Engelmann at BHS also points out: "Sure, the products have their price because they require resources and highly trained personnel. Actually, some products in the FIFTYEIGHT line come with their own specific challenges, which not every employee can handle. So when somebody is able to craft a 'sulking' bowl, that doesn't mean they can automatically work on a 'happy' bowl as well."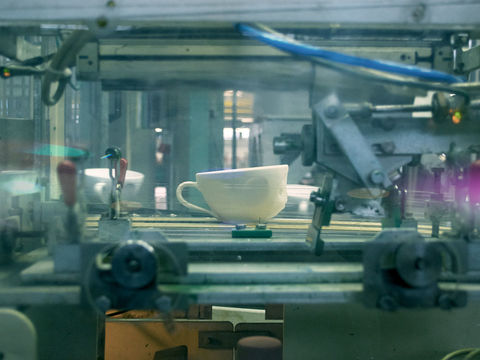 Facing the Future
Since the beginning of the partnership in 2012, the relationship between BHS and FIFTYEIGHT PRODUCTS has constantly evolved. "We are constantly growing and every year, we normally add about four to six new products to the collection. And in many cases, that goes beyond just putting a new face on an existing model, all the way into creating entirely new product categories." In 2015, the company launched the TALENT line of cups featuring sculpted portraits of artistic geniuses from world history in three-dimensional details. Taking these icons of world culture "off the high pedestal" and bringing them onto the table as conversation pieces, the TALENT collection blurs the line between dishware and collector's items. And it also proved a major challenge from a production angle, which the BHS and FIFTYEIGHT PRODUCTS mastered.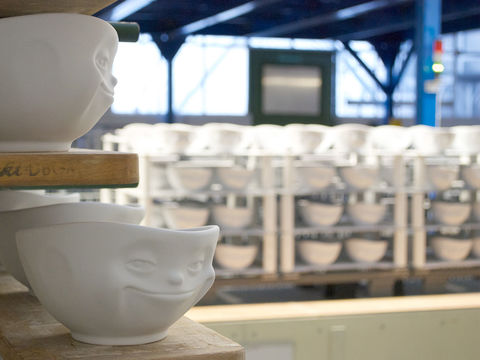 As we speak, the second flower vase crafted from porcelain expands the line of home decoration products that go beyond serving food and beverages. The year 2017 also saw a long-time request from fans finally turned into real products: TASSEN bowls and mugs with colorful eyes. "This was super resource-intensive from a production standpoint, since you cannot simply paint the eyes onto the porcelain. It needs to be fired into the porcelain in order to be food-safe and able to withstand several thousand runs in the dishwasher," said Ralph Engelmann at BHS, where technicians developed a special method for applying the colored eyes. Released as a limited edition project, the colorful eyes proved a major hit with fans – and sold out almost instantly. Since then, BHS and FIFTYEIGHT PRODUCTS have been working hard to feed the need, and bring new colored eye designs to market, among other things.

"We constantly have to rise to new challenges and develop our skills in order to find production solutions for the creative ideas presented by FIFTYEIGHT that meet our high standards," said Ralph Engelmann. Aside from handling the manufacturing, BHS also ensures a smooth process by taking care of logistics, volume planning, and supply chain management for FIFTYEIGHT PRODUCTS, another part of the unique BHS service offering. Says Marc Eckart at FIFTYEIGHT PRODUCTS: "Our business relationship is based on mutual trust and we are excited to have found an incredibly competent partner with unique manufacturing expertise to help us turn our far-out ideas into quirky porcelain products. We could never have imagined anything like this a few years ago when we first started."