TENDENCE Tradeshow 2015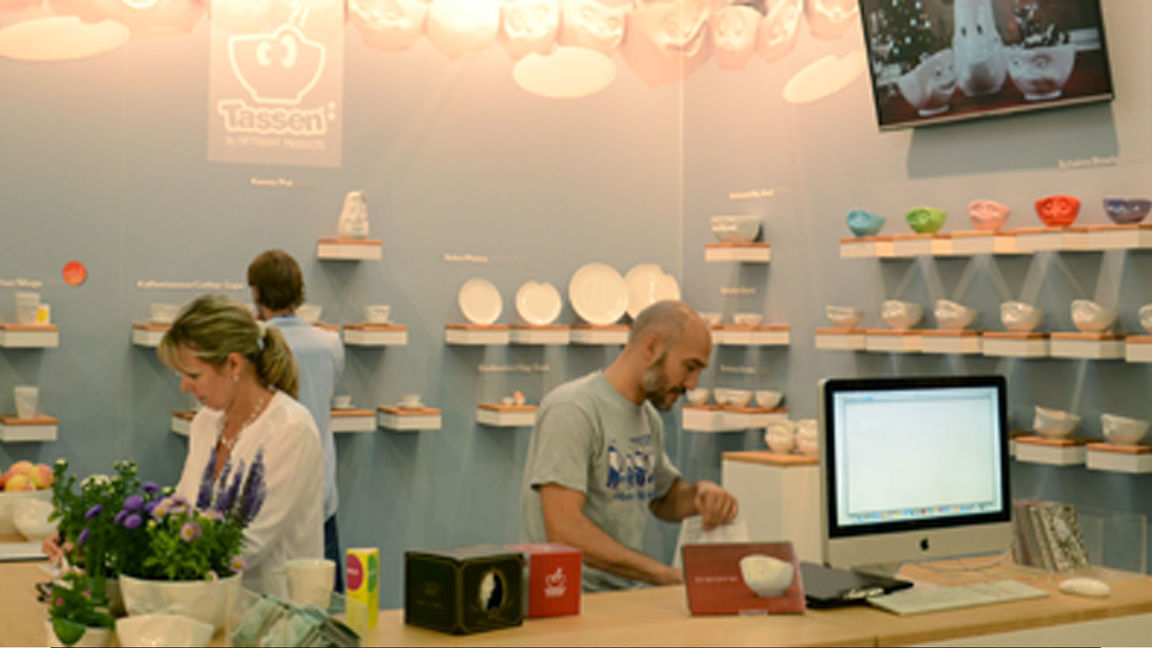 For the 2015 edition of Tendence tradeshow in Frankfurt, Germany, FIFTYEIGHT PRODUCTS brought some major news to the table: Aside from funny Egg Cups and Plates "with a bite," we launched two new product lines.
Go big, or stay home. That was the motto for FIFTYEIGHT PRODUCTS at Tendence tradeshow in Frankfurt, Germany, in August. At the well-attended show we brought some major news to the table, including new faces on our Egg Cups and larger Plates "with a bite", plus not one, but two (!) entirely new product collections.
Setting things off was our new series of Coffee Mugs, crafted from hard porcelain in premium TASSEN quality. As you will instantly notice, the tall Mugs are designed in a unique aesthetic that's a nice individualistic counterpart to our cheerful little TASSEN bowls and cups. Available in two unique moods – GRUMPY and IMPISH – and with handles on all models, the 350 ml capacity (11oz) Mugs are bound to bring a new level of excitement and personality to the TASSEN universe.
In other "big" news, our popular Plates "with a bite" received the XL-treatment in a 28cm version. As a direct follow-up to our dessert plate with cute teeth marks, the larger dinner plates are blending elegance and humor at the table, 100% Made in Germany from hotel-quality porcelain.
From XL-styles to cute little household companions, our new collection also features two updates to our popular egg cup line: The 'eggciting' new faces on our Egg Cups are 'Happy' and 'Hmpff!'. Next to bringing breakfast eggs and good cheers to the table, these two are also great for serving spices, herbs, wasabi, or a scoop of ice cream.
And last but not least, as the second major product line expansion, FIFTYEIGHT PRODUCTS went back to the classics, in the truest sense of the word: Our new TALENT series features elaborate three-dimensional, sculpted Cups crafted from premium porcelain with 260 ml (9 oz) capacity that pay homage to great artists that have enriched the cultural heritage of our planet.
Starting things off, we have captured the likeness of Wolfgang Amadeus Mozart and Ludwig van Beethoven. True geniuses and trailblazers of classical music, both composers still enjoy a loyal worldwide following today. Maintaining our high standards for three-dimensional character design, the sculpted TALENT Cups and saucers honor the legacy of both composers.