Summer Recipes presented by TASSEN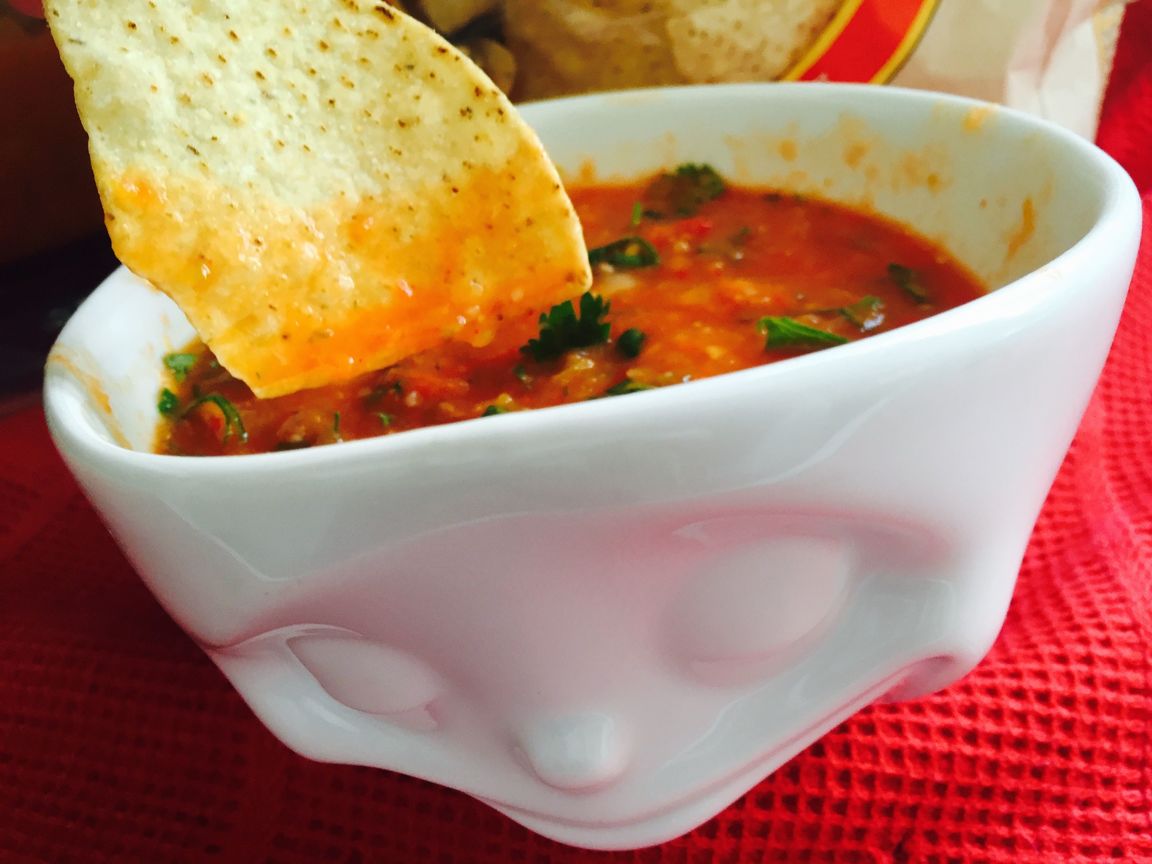 Flaming roasted pepper and tomato salsa. Buenos días, muchachos e muchachas!
Buenos días, muchachos e muchachas!
It's been a hot summer and we're about to crank up the heat a little more with our latest recipe. This time around, we're making Flaming roasted pepper and tomato salsa – a family favorite in Mexico, now coming to a table near you.
In this summertime classic, the roasting process adds an intriguing depth of flavor to the refreshing, fruity tomato taste. Chili and jalapeno peppers bring the heat while cilantro and freshly diced onion balance it all out.
All you need is tortilla chips or freshly baked tortillas and your Mexican vacation is about to begin.
Ready? Let's get this salsa party started, hombres!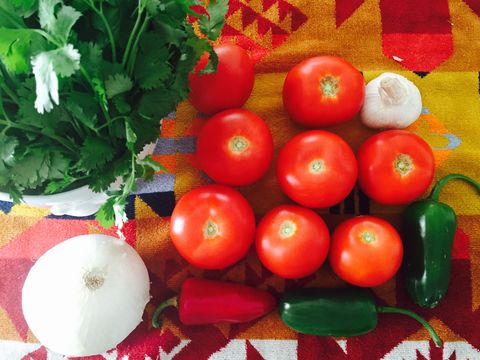 Ingredients
2 lb fresh tomatoes
2-3 jalapeno peppers
1 chili pepper
4-6 cloves garlic
1/2 white onion (the other half is for serving)
For roasting the vegetables
1/4 cup vegetable oil
1 tbsp salt
Add before blending
Juice of 1 lime
1 tbsp salt
1 tbsp cumin
Add before serving
1/2 White onion, diced
1/4 cup fresh cilantro leaves
Preparation
1. Preheat the oven at 450 F and wash the vegetables and cilantro.
2. Peel the garlic and onion, cut the onion in half. Slice one half of onion into four pieces, finely dice the other half (will be added before serving the salsa). Plug the cilantro leaves and reserve for serving.
3. Remove the cores from tomatoes. Remove the seeds and tops from the jalapenos and chili pepper.
4. In a bowl, toss the tomatoes and peppers in vegetable oil and generously drizzle with salt.
5. Arrange tomatoes in an oven-safe pot or casserole dish. Insert the garlic into the tomatoes where you removed the core (that way, they won't burn and infuse the tomatoes with flavor). The same way, stuff the jalapenos, chili peppers, and onion pieces inside the tomatoes.
6. Time to get cooking! Roast in the oven for 30 minutes at 450 degrees. When the skin on the peppers and tomatoes are showing blisters, wait a few more minutes and remove. Some blackening is okay, depends on how "roasted" you like your flavor.
7. Take the roasted vegetables out the oven and let cool for about 1/2 hour.
8. Pour roasted vegetables and juices into blender or food processor. Add lime juice and cumin. Then hit VROOM! VROOM! Pulse several times until the salsa reaches your desired consistency.
9. Pour into a bowl – we have some nice ones at the shop – and before serving, add cilantro and freshly diced onions. (If you intend to store salsa for later use, wait with adding cilantro and onions right before serving. It stays fresh longer that way.)
10. Get some chips and friends – time to get this salsa party started.
You can also experiment with different peppers and adding more – or less – peppers to your salsa, or go crazy on the garlic. Some folks like to roast their peppers over the grill for that smoky finish. Others add grilled pineapple or mango to their salsa. Loco! The variations are endless and everything goes.
Just make sure to wash your hands after handling the peppers and, let's say, rubbing your face. Seriously :)
Have fun and enjoy the summer season!
Your friends at TASSEN.