Say Hello to our New Mugs!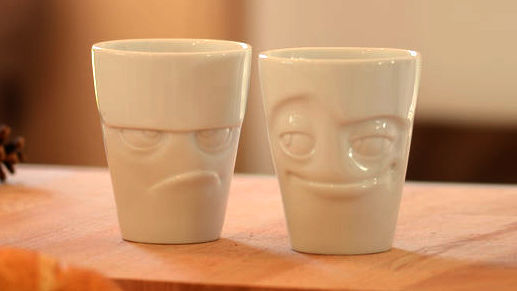 The TASSEN family continues to grow: Please welcome our latest addition, the new line of TASSEN coffee mugs with their expressive facial features.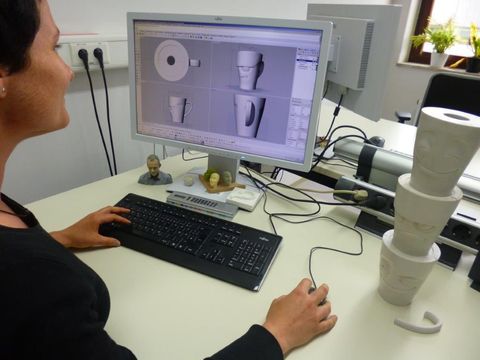 We're always excited about all the suggestions from customers and friends for new products they want us to make
from porcelain
. "Why don't you guys make…?" they say, followed by the most amazing ideas. One of these great ideas consisted of a new line of coffee mugs, which has now finally become a reality!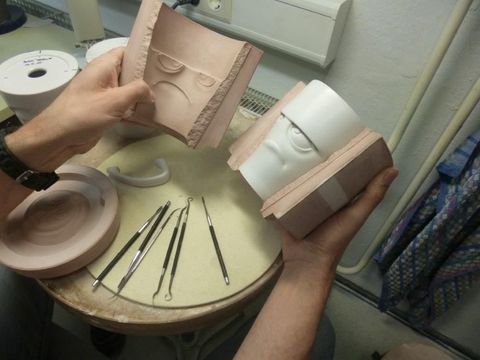 Because the thing is: While we're always excited about new ideas, porcelain as a material with really specific and delicate properties and manufacturing needs can be quite the reality check for even the coolest visions. And it gets even more complicated when you're adding facial features and embossing to a product. Which is why some ideas we receive via email and social media unfortunately never see the light of day…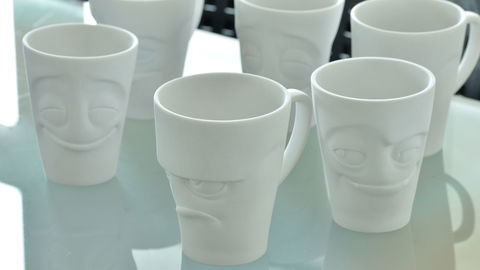 But we're always doing our best to make new ideas happen and add some new members to the TASSEN family who can contribute their own personality and humor to the mix. After all, it's much funnier when the little guys can torture one another with their jokes and friendly banter.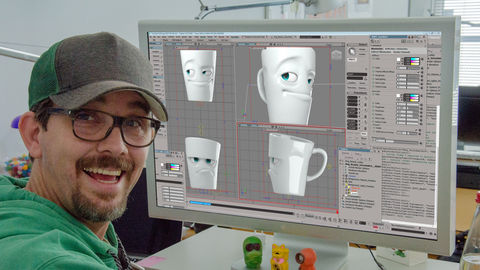 With products like the
porcelain teapot
with its charming British accent we have already added some new flavor and personality to the TASSEN universe. And now we're happy to introduce the next chapter in the unfolding story of the TASSEN family. Introducing: The new coffee mugs have landed!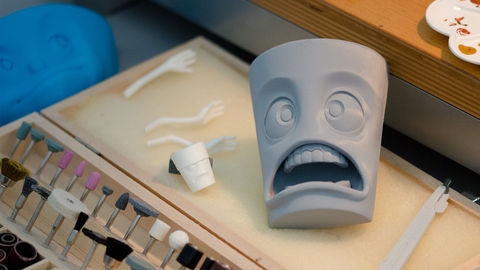 Fresh from the TASSEN porcelain production line, here are our new coffee mugs. Available in two unique moods – GRUMPY and IMPISH – and with handles on all models, they're bound to bring a new level of excitement and adventure to our product line-up. And because everything we do here at 58 Products ultimately boils down to
computer animation
and 3D-characters, the mugs will soon make their big appearance in the next
TASSEN video clip
. Maybe even sooner than you think!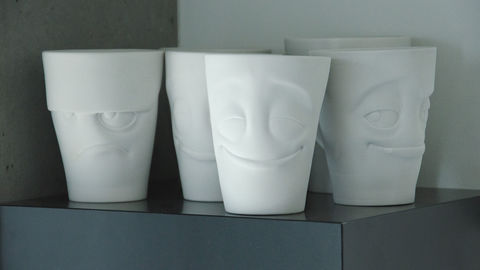 But which dialect the mugs with their 11oz capacity will speak and what their personal background will be – that's a secret for now.
One thing's already for sure: Their demeanor will be a little bit "rougher" than our cheerful little TASSEN bowls and cups. But wait until the video comes out and you will get to know the mugs and all their individual flavor, up-close and personal. The "hard" facts about the finished products are already here.
The TASSEN Mugs will feature:
· Coffee mugs from hard porcelain in TASSEN quality
· Filling capacity approx. 11 oz (0.35 liters)
· Variety of moods and facial expressions
· Sets of various mugs combined
· Features handle
· 100% Made in Germany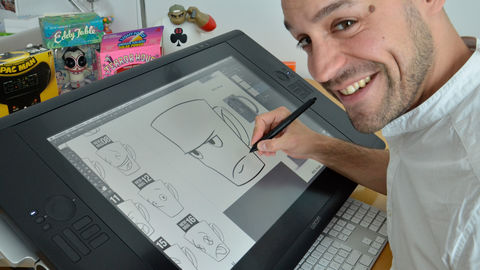 We can hardly wait ourselves to walk into our local take-out cafe and proudly ask: "Fill 'em up, please?!" As a little appetizer and look behind the scenes during the production stages of our new mugs, we got the
lowdown
on the origin story from 58 Products designer Max Zimmermann.