About CANNICS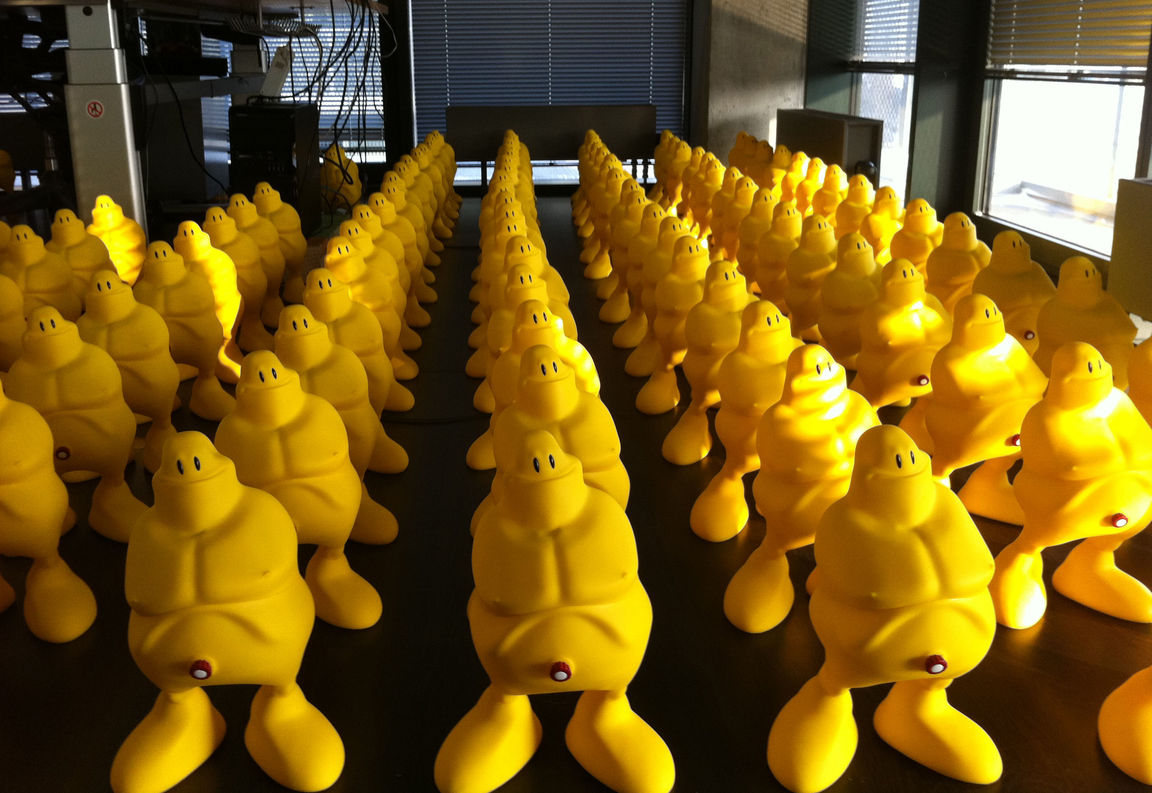 How did CANNICS manage to come all the way to Earth from a different quadrant of the universe when he's clearly limited in his abilities? Or is he hiding some secret skills behind his shiny yellow smile?
"Is there a life after death?" "Why can't we understand the infiniteness of the universe?" "And what is the meaning of life?"
Most of these questions will most likely remain unanswered for the foreseeable future. Much like the question how CANNICS managed to make it all the way to Earth from a different quadrant of the universe, when his skills are obviously rather limited? And maybe he is actually rather skilled in his own world – but that's also something we'll probably never find out...
CANNICS represents the fact that every single one of us somehow goes through life with their own set of limitations and inabilities. But in the end, we can all prove that we are capable of much more than people would expect us to. On top of that, the chubby yellow little chap serves a constant reminder to keep a smile on our face, no matter what kind of hand life deals us and always try to do our very best. CANNICS is always going for it – with varying degrees of success...
The name CANNICS is based on a pretty obvious condition, he CAN NOT do anything... Just look at the guy, you'll see he has to overcome some serious limitations. CANNICS was actually one of the first 3D-characters created by FIFTYEIGHT 3D co-founder Max Zimmermann in 1996, when he started learning the ropes of computer animation. Maybe he thought it would be nice to have a virtual companion by his side who felt as limited as he did diving into this whole, highly complex 3D-animations thing (he could have given him two left hands, but CANNICS ended up with no arms at all).
By the time FIFTYEIGHT 3D was founded in 1998 by Marc Eckart, Timm Osterhold and Max Zimmermann, the first order of business consisted of finding a company mascot. After all, FIFTYEIGHT 3D was created as a studio specialized in character animation – so anything but a 3D-character for a logo would be missing the point, right?
CANNICS emerged as the clear favorite here at FIFTYEIGHT 3D. But make no mistake, his company icon status doesn't exempt the poor yellow guy from severe punishment – just the opposite: On our international award-winning website www.fiftyeight.com CANNICS can be seen in the legendary "Fight the Site"-animations, getting his shiny yellow behind whooped in countless animations. Or how about the dark, dark humor in our Holiday animated film from the year 2005? CANNICS just can't get a break...
Since then, he's showcased his charms on stages around the globe, from the 2000 World Expo to the 2006 FIFA World Cup. He also caught the attention of some folks at SONY, who enlisted CANNICS for the first season of educational videos for the Playstation Vita.
CANNICS started as a virtual character and now has come to life in real-life vinyl, dishing out good vibes and cheerful optimism wherever he appears. And this also why the packaging on our CANNICS vinyl figurine bears the slogan: "Your World in my Smile".
In order to make this special figurine happen, we had to diverge from our philosophy of producing our products solely in Germany: In order to source the most proper vinyl for our CANNICS at an impressive height of 32cm (a solid foot), we had to hit up a producer in Hong Kong. All collectors of urban toys and other nerds will most likely agree with this choice. For all newbies to urban toys made from vinyl, here's a little intro to this fascinating and colorful world.
And since we are heavily inspired by the art form of vinyl toys, which are a popular medium in the U.S. and Japan, we also made a completely blank CANNICS "DIY Edition." Then we asked some of the artists in our network whether they'd like to have a go at creating their own interpretation of a CANNICS. To this day, over 40 artists have been part of the project and the exhibit of CANNICS art has been showcased in Frankfurt, Berlin, Wiesbaden and Cologne.
Looking at all these achievements, CANNICS has come pretty far for someone who notoriously CAN NOT do anything, right? CANNICS also wants to remind you: Keep smiling!