About TASSEN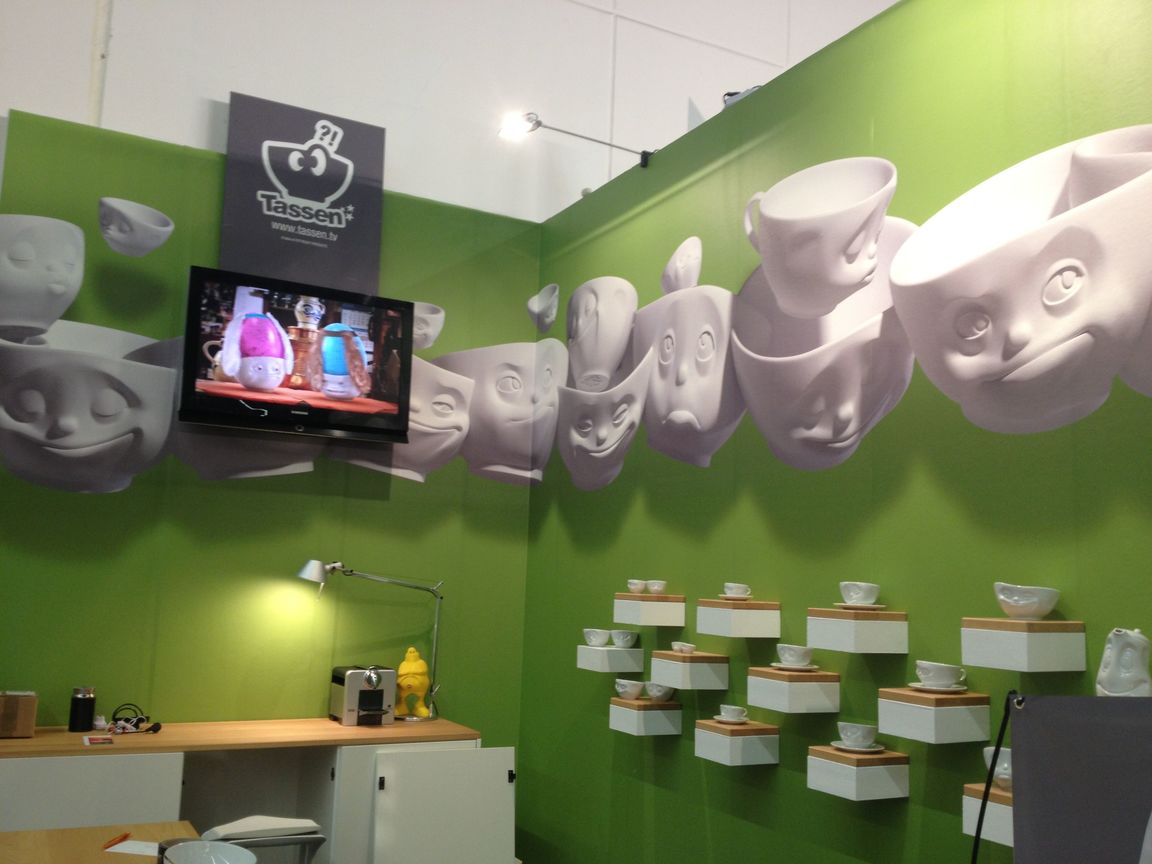 When we tell people that our 3D-animations studio has decided to make its own real-life products from porcelain, they may think we have lost our marbles. And that may be right. But what we found instead is a neat selection of bowls, tea cups and other neat porcelain pieces!
Like many projects here at FIFTYEIGHT 3D, our cute little TASSEN first started out as animated 3D-characters in a video clip.
For the 2006 holiday season, we produced a short animated movie to send out as a virtual greeting card to all our clients at FIFTYEIGHT ANIMATION. Little did we know that the clip with the pesky little characters would soon spread like wildfire via forwarded email – and become a cult phenomenon. That's even more remarkable considering the fact that back then, there was really no Facebook or YouTube (hard to imagine today, right?).
The audio track for this first clip was dubbed by the actors behind the famous comedy duo Mundstuhl from Frankfurt in their signature accent of the state of Hesse.
And since we had pretty much already fallen head over heels for the two little freaks during the 3D-animation stages, we were already considering turning the cups into real-life products. Their facial expressions in the final image of the movie – one smiling deviously while the other looks on in startled bewilderment – was so full of expression that we decided to want to hold the cups in our hands as real products with these exact expressions.
As a first step, we ordered a stereo-lithography based on the 3D-data. And as it appeared, such a stereo-lithography crafted from resin would be the perfect original to base a product on. At least that's what we thought... "Hey, we can just drop this off at a porcelain factory and they'll make our product, right?" Well, as it turns out, it's not that simple. At least if you want to achieve the same high standards of quality we aspire to in our 3D-animation business...
Our main emphasis was on achieving an appropriate level of detail and achieving the right sharpness of the features in porcelain – so that the facial expression would not be "blurred out" so it can convey the proper emotions. Because after all, that's what the TASSEN project is all about: Conveying the kind of emotions we encounter in our daily lives all the time.
The first manufacturer that was able to produce the TASSEN products according to our specifications was the Hannes Wolf company from the town of Weiden, Germany. We produced the first run of TASSEN bowls in 2007 and have never slowed down since. It's still one of our favorite past-times to develop new TASSEN products and animated features.
By now our range of products consists of several sets of bowls and egg cups as well as espresso cups replete with saucers and numerous other items. And due to the great response, we are constantly expanding our product line-up. Through it all, the ideas and wishes of the global TASSEN fan community always play a major part in the development of new additions to our product collection.
Popular demand was also the impulse for our most challenging product to date: the huge tea pot. At first, it seemed almost impossible to develop a character of that shape and size – both in terms of product design, and also the character's underlying personality. After all, everything really has to be a good fit with the rest of the TASSEN "family." But thanks to years of experience in 3D-character development and animation, we pulled off the new animated film to introduce our new, jovial tea pot as the main character – and the response has been overwhelmingly great!
Today, our products are distributed across the entire globe. And maybe sometime soon our trusty cast of characters will branch out into learning a different set of languages. We'll also add new adventures of the TASSEN cast in our animated features, which are still our main passion today!
With that said, we are excited about what the future holds for us. We still have lots of ideas on hold to draw from and if you have something you'd like to see happening in the zany world of TASSEN, please let us know!